Faces of The Fellowship: Roza
The Fellowship | August 19, 2021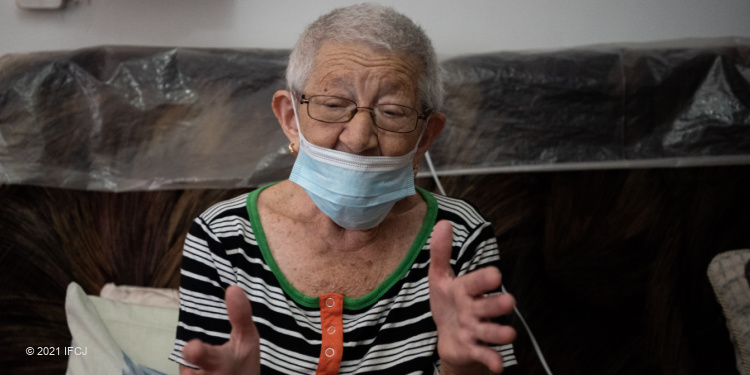 Roza has seen awful things, both in her childhood and in her adult life. She has been through all the major tragedies of the 20th century.
Born into a Jewish family, Roza was only five years old when World War II started, and her family had to flee the Ukrainian town of Vinnitsa to escape the Nazis. Roza recalls how frightened she felt: "A lot of barges with refugees were bombed, and people were killed. We were lucky to jump on a barge that traveled at night. The night was moonless and dark, and the Nazi bombing wasn't successful — that's how we survived."
All of their belongings were stolen on their way, and when Roza, her little sister, and their mother eventually reached safety, they had no choice but to live on a street near the railway station. Life was difficult. The locals didn't treat the Jewish refugees well, or help them. "They were cursing at us and throwing watermelon rinds at us." After weeks of hunger and suffering, Roza's mother managed to find a job, which supported the family and allowed them to survive the rest of WWII.
Immediately after Vinnitsa was liberated from the Nazis, Roza's family moved back home. Roza went on to graduate from medical school and went to the Donbass mines to work as a doctor.
The Chernobyl Disaster
The hardest period of her career occurred in the 1980s. She worked at Vinnitsa Hospital and was responsible for treatment of the local Chernobyl accident liquidators, who were sent to deal with the consequences of the Chernobyl nuclear disaster in the Soviet Union.
Roza developed thyroid and colon cancer after caring for these young men. "I live without a colon and without teeth. My health was destroyed by Chernobyl."
Loneliness and Loss
In the 1990s, Roza made aliyah (immigrated to Israel) with her husband because her son was living in Israel. She wanted to be close to him, but ended up being completely lonely after her son moved to Bulgaria. And most of her grandchildren live in the U.S. She spent most of her years in Israel working as a homecare worker.
But today, Roza feels alone after the loss of her husband, who passed away 14 years ago. She has many health issues that bother her and she's very weak. Still, she finds the energy to take care of her husband's grave and grows a small garden nearby. She visits each week. This lonely, elderly woman, who's suffered so much, has no one to rely on except for The Fellowship.
"The Fellowship helps me a lot in my fight with loneliness and with poverty. The 300 shekels which I receive each month is a huge deal for me."
She is especially excited for The Fellowship to visit during the upcoming High Holy Days, but for something more than just the nourishing food — the friendship this precious Jewish widow receives when Fellowship volunteers arrive at her home. "I'm happy to have such a wonderful friends by my side," she says.
Help elderly like Roza celebrate the High Holy Days in dignity and friendship this sacred season.