The Power of Partnership
Yael Eckstein | July 29, 2021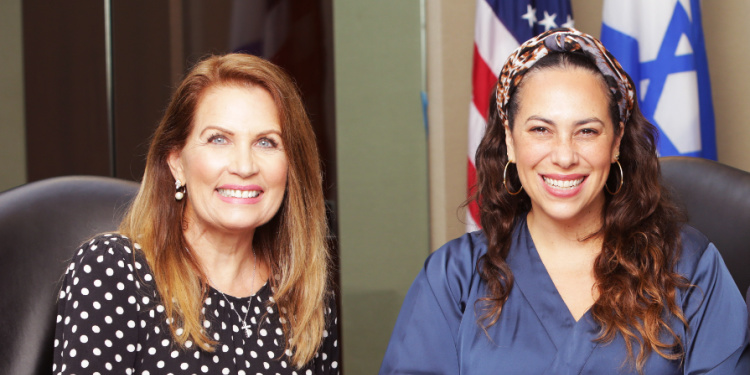 Shalom,
As you know, earlier this month I spent a memorable week in the U.S. I felt so blessed to be back in the land of my birth and see beloved family and friends.
While I was there, I was able to spend time with a dear friend of The Fellowship, former U.S. Congresswoman and current Dean of Regent University's Robertson School of Government, Michele Bachmann. It was wonderful to see and spend time with Michele. And while we were together, it was my privilege to welcome her as my first guest on a new podcast series we're calling Conversations with Yael.
A Deep and Fruitful Conversation
While I'll continue to explore the ancient Jewish roots of Christianity and their relevance to your life on my weekly podcast, Nourish Your Biblical Roots, Conversations with Yael will allow me to have discussions with Christian and Jewish friends – discussions that you can listen in on. And if my time with Michele is any indication, it will be a place where many deep and fruitful conversations will take place!
We had such a good and wide-ranging talk. We talked about being mothers – I was astonished to learn that Michele not only has five children but provided a loving home to 23 (!) foster children – and how to balance the demands of work and family. We talked about Michele's first, life-changing trip to the Holy Land in the wake of the Yom Kippur War. We talked about the miracle of the founding of the modern state of Israel and how God works in history.
One theme ran throughout our discussion: For both Jews and Christians, faith in God and His Word is at the heart of all we do. It is the foundation of all aspects of our lives. As Michele put it, "Take God's Word and practice it… If you practice it, if you live it, if you objectively look at life through the lens of the Bible, you will see the greatest truth that there's ever been."
Two Are Better Than One
The Fellowship's relationship with Michele goes far beyond just this one podcast. I'm thrilled and honored that we're partnering with her to support The Fellowship's mission of building bridges between Christians and Jews and providing Jewish people in need with humanitarian aid. Over the years, she has proven herself to be an outspoken and unwavering friend of Israel. The Fellowship is able to help millions of people on our own, but through our partnership with Michele Bachmann, we will be able to help even more.
My podcast with Michele Bachmann will be available on Wednesday, August 4, on The Fellowship's website. Please visit the site, and while you're there, subscribe to listen to both Nourish Your Biblical Roots and Conversations with Yael wherever you listen to podcasts.
The Bible tells us, "Two are better than one, because they have a good return for their labor" (Ecclesiastes 4:9). My friends, I hope you'll join me in welcoming Michele Bachmann to our Fellowship that is doing so much good in the world.
With blessings from the Holy Land,

Visit the podcast page on our website to listen to Yael's conversation with Michele Bachmann!