Help and Hope in the Holy Land
The Fellowship | July 18, 2022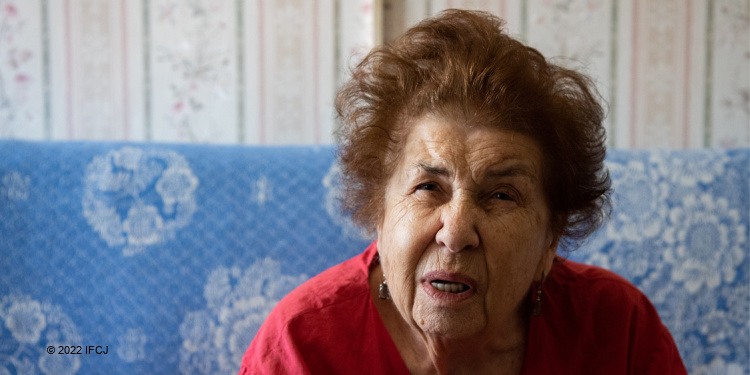 Svetlana's grandmother used to say, "Keep our family history, and know it well." And that's what Svetlana has done, passing her family history and faith to the next generations, including the Fellowship volunteers who visit the elderly Holocaust survivor in her humble home near the biblical city of Nazareth.
But Svetlana didn't always have loving friends to care for her… and she didn't always live in the Holy Land.
Svetlana learned of her heritage from her grandmother, as her grandfather had been beaten to death by communists before World War II began. And when the war did begin, it was the Nazis that drove Svetlana's Jewish family from their home in Ukraine.
Svetlana remembered what her grandmother had taught her, and fled with her mother and older sister, often riding on her mother's shoulders as the three fled to safety in the Ural Mountains. The journey was grueling and little Svetlana nearly died from the many diseases and malnutrition that came with the trek.
Even when the family reached the Urals, life continued to be hard. The three slept in the same room with 20 other refugees, cramming into one corner and fighting off the cold and hunger—Svetlana's mother didn't even have a pair of shoes, so she had walked the entire way barefoot through the Eastern European ice and snow!
When the family returned home after the war, Svetlana again nearly lost her life, as an unexploded grenade left from the war killed several children she was playing with. Svetlana was severely injured, but recovered after many months.
Svetlana dreamed of becoming a doctor or nurse, dreamed of helping sick and injured children like herself. But the communists didn't allow Jews like her to receive such training. So instead, Svetlana spent her life teaching drawing.
After making aliyah (immigrating to the Holy Land), Svetlana has now found the help and hope she lacked for much of her life, receiving regular visits and help from The Fellowship. "Thank God The Fellowship exists in this world," she says. "I'm no longer afraid of starvation."
As The Fellowship prepares to take your prayers to the Western Wall in Jerusalem so that you will be blessed, join us in blessing God's people like Svetlana with lifesaving help and hope.