Hope in the Face of Unspeakable Evil
Rabbi Yechiel Eckstein | October 30, 2018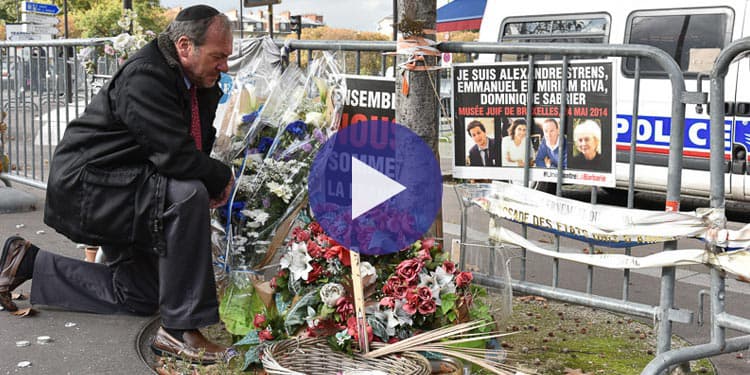 Dear Friend of Israel,
Today I write from a deeply broken heart, grieving over the horrific massacre Saturday morning at the Tree of Life synagogue in Pittsburgh, Pennsylvania.
My prayers, and those of our entire Fellowship family, go out to our Jewish brothers and sisters who came to worship God, and to attend what should have been the joyous bris (circumcision) ceremony of an eight-day-old baby boy, as the Bible instructs us to do (Leviticus 12:3).
But my message to you today is not only one of heartbreak, which I know you feel deeply as well. I also want to share with you what I believe is the lesson God is repeatedly trying to teach us, Jews and Christians alike, through tragedies like this. And what we, in The Fellowship, can and must do in response to this divine calling.
One of the first questions God asked in the Bible after Cain murdered Abel is, "Where is Abel your brother?", to which Cain replied, "Am I my brother's keeper?"
In light of Pittsburgh and God's similar question of us today, our response should be a resounding, "Here I am. Send me." as the prophet Isaiah answered to God's call.
For the truth is that the attack in Pittsburgh was not an isolated incident. On the contrary, it is one more example of a disturbing pattern of hatred and prejudice that has been taking shape for years against Jews in America and around the world.
In fact, it is the very existence of the Jewish people that has incited ghastly acts of anti-Semitism for thousands of years. And we, as Jews, have become accustomed to this sad reality.
We know that this hatred, which has been called "the longest and deepest hatred of human history," is alive and with us today – even in America – as the slaughter of innocent worshipers in Pittsburgh has so cruelly reminded us.
In response, we must declare in a loud, unified voice that assaults like this against Jews – whether they be in Pittsburgh, Jerusalem, or any other place in the world – are attacks against us all. We cannot let such dastardly acts go unanswered. We must be prepared to fight to the death to protect our liberties and freedoms, to eradicate hatred and evil from our midst, and to pray and work toward building a more compassionate society.
Tragically anti-Semitism is flourishing, not just in the Middle East, but throughout the world. Synagogues in Europe, the former Soviet Union, and as far away as Mumbai, India, have come under vicious and deadly anti-Jewish attack.
And now, this unspeakable evil has come to the heart of America. Perhaps I should not have been surprised by this news. But I must admit, I did not expect that such horrific acts of anti-Semitism could happen in the United States, the nation founded on the principles of free speech and freedom of religion. Tragically, it has.
This great nation of ours, that was birthed by Christians of faith fleeing religious persecution in Europe, and imbued with a profound belief in the biblical truth that all human beings bear the image of God and are of infinite worth, is crying in pain as it witnesses the prejudice and hatred that is so prevalent in our society.
While there have always been those, driven by the satanic forces of evil, who have carried out murderous violence, the synagogue attack in Pittsburgh proved clearly that even today such evil is present in all its horror. It cannot be minimized or rationalized away. Anti-Semitism, and all forms of hatred, are an assault not only on us, but on God Himself!
I mentioned above that the worshipers at Tree of Life were celebrating a Brit Milah ceremony, the rite of circumcision that is the sign of the eternal covenant God made with our father Abraham.
One of the prayers recited during this ceremony is taken from Ezekiel 16:6. As the foreskin is cut, the prayer is recited, "I passed by and saw you kicking about in your blood, and as you lay there in your blood I said to you, 'Live!'"
Sadly, being part of a biblical covenantal community often involves suffering and sacrifice. Already our father Abraham, who was willing to sacrifice his son Isaac, taught us this lesson.
And while we do not always understand God's way, the Bible and our history have taught us that, tragically, this too is the price of being covenanted with God – from time immemorial to this very day.
But the blessings given us through our covenant with Abraham were not given to the Jewish people alone. Indeed, this is the promise of Genesis 12:3, which is at the heart of The Fellowship's ministry – that God is a source of blessing for Christians who are also covenanted with God through our father Abraham.
And while we often quote the opening statement of this verse: "I will bless those who bless you," the Bible goes on to say, "and all peoples on earth will be blessed through you."
And still, despite this promise of blessing, Jews have had to endure the onslaughts of those who hate us—from Haman, the descendant of Amalek who tried to annihilate the Jews 2,500 years ago, to this very day.
Haman and Amalek represent the embodiment of anti-Jewish hatred, which is why God Himself made an oath and also called upon us to fight the battle against evil "from generation to generation."
In a few days, Jews around the world will commemorate Kristallnacht, the horrible night of November 9, 1938, when mobs destroyed over 260 synagogues throughout Germany, damaged thousands of Jewish homes and businesses, vandalized Jewish hospitals, orphanages, and cemeteries, and dragged thousands of Jewish men, women, and children into the streets where they were either beaten, sent to concentration camps, or killed.
Kristallnacht also marked the beginning of the Nazi Holocaust and the murder of 6 million Jews. Today, exactly 80 years later, anti-Semitism still thrives in Europe and, in fact, is at the highest levels we have seen since that unimaginable, cataclysmic event.
I have no doubt the Jewish people will survive this tragedy in Pittsburgh, as we have survived so many others in the past.
But we should remember that the difference between the attack at the Tree of Life synagogue this weekend and the pogroms and mass murders of Jews in the past is that today, we Jews are not alone! Today, Christians are joining with Jews to offer the balm of Gilead to the suffering, and to pray and act for Jews' safety and security around the world.
One more thing – we must take action against these satanic forces of evil not just for the Jewish people's sake, but for that of Christians, as well. For if we do not respond to attacks against Jews today, we will have to battle those who persecute Christians tomorrow. In fact, such anti-Christian hatred and persecution is happening to Christians today!
That is why my concern is not only for Jews who are suffering for their faith, but for Christians who, this very day, are suffering and being martyred for their faith. There is a genocide campaign against Christians going on in the Middle East today. While the entire Jewish communities of the Arab Middle East, from Iran, to Egypt, to Libya, where Jews lived for 3,000 years, have been destroyed, the same is happening to Christians now. Indeed, the only place in the Middle East where Christians are free and safe to practice their faith is in Israel.
My friend, we have a vital – even holy – work to do in fighting the evil that seeks to sweep us all away.
This is the key message I want to share with you today. God is giving us a mighty warning. He is saying over and over again, "Learn from this!"
He is calling us to stand with one another. To come together. To build a better world, and to love our neighbors as ourselves. And He is calling us to declare that an attack against any of us – Jew, Christian, African-American, Hispanic, or others – is an attack on all of us.
The battle we are fighting is of the Lord, against principalities and powers that are attacking our Jewish and Christian faith communities—and even our very humanity. This battle is clear to see when a gunman crying "All Jews must die" opens fire on innocent worshipers in a synagogue.
In response, the battle must be fought by all of us, whenever we encounter hatred. For all people are created in and bear the image of God.
As important as expressions of mourning are for the families of the Jewish people who were murdered, we need to heed God's call and take actions that stop the hatred that pervades the world today.
It is for this reason and toward this end that The Fellowship has built thousands of bomb shelters all across Israel, and underground command centers for Israeli cities so the IDF can direct military and civilian operations during times of attack.
It is for this reason that so many of our Fellowship Christian partners are providing security guards, cameras, and other protective equipment to synagogues and Jewish schools in 180 cities in Israel and throughout Europe, the Far East, and South America. Countless lives have been saved because of this project of ours.
And it is you, our Fellowship partners, who have made it happen. It is you who have stood up time and again to declare, "We are with you! And we will continue standing with Israel and the Jewish people in unbroken solidarity and brotherhood."
I am so grateful to God for using me and The Fellowship to build bridges of healing and cooperation between Jews and Christians, so that we might continue to stand with one another in times of joy and sadness.
This has been my vision and calling for over 35 years, and the reason I founded The Fellowship in 1983 – to bear witness to the world, through our prayers and deeds, that God is calling us in a mighty way, Jews and Christians alike, to bring shalom to the world.
We, Christians and Jews in The Fellowship, stand ready to fight for our faith and for the Judeo-Christian values we believe in and for which so many American servicemen and women have fought and died. In God's power, we come together now and declare, "This evil is not who we are as Americans. It is not who we are as people of God Almighty!"
This is our challenge. And meeting it needs to begin not today, but yesterday!
I trust and pray that you will join with me and stand with The Fellowship as we seek to carry out this divine mission.
Please keep the Jewish community in your prayers, and pray for the day when true peace will come to Jerusalem, Pittsburgh, and all of our troubled world.
To learn about how you can help provide safety and security for vulnerable Jews around the world who are facing anti-Semitism and terrorism every day please click here.
With prayers for shalom, peace,
Rabbi Yechiel Eckstein