Project Spotlight: School Supplies for Children in Need in the Holy Land
The Fellowship | August 8, 2023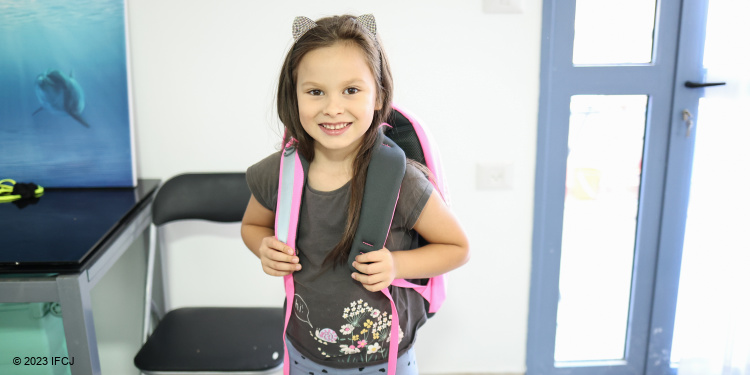 With the new school year just around the corner, most children will be starting their classes in September. But for children and families in need in the Holy Land, purchasing even basic school supplies can be challenging.
This is where The Fellowship is stepping in to help! This school year we will be delivering Fellowship school supply cards to 11,000 families in need in Israel, as well as Fellowship backpacks to those who need them.
For example, some of these families in need are those who just escaped war-torn Ukraine or from other countries where they faced poverty and anti-Semitism. And getting ready for the new school year—in a brand new country, with a new language and educational system, as well as financial challenges—can be overwhelming.
Some parents even had tears to their eyes after receiving the kindness and help setting their kids up for success this school year! Just ask Karyna…
'You Made My Little Girl Happy'
First grader Daria had a huge smile while hugging her new Fellowship-provided school backpack. She did not want to let go.
Daria and her mother, Karyna, are refugees from Ukraine and had to leave everything behind to escape the war-torn country and make aliyah (immigrate to Israel) with The Fellowship. In fact, prior to The Fellowship's visit, Karyna tells us she was up all night receiving messages from relatives about the war. "The house we lived in was hit by a falling missile. I'm afraid to think what would have happened if we had stayed in Ukraine."
She painfully remembers each fearful night in Ukraine—the constant alarms going off and having to frantically call her family and friends to make sure no one was hit. Her husband, Aleksandr, was away fighting on the front lines. "I cried non-stop," she says.
Her husband survived, but three of Karyna's good friends were killed in the fighting. "It is a loss that is hard to describe," she says. The psychological effect was extreme, as is the effects on her physical wellbeing. But thanks to your generosity, Karyna's family is safe now in the Holy Land.
"It's a miracle that we are in Israel. Actually it's not a miracle, it's thanks to the assistance from The Fellowship," adds Karyna.
So while Daria held her Fellowship backpack tight, Karyna had tears in her eyes. "You made my girl happy! We arrived with very few things and she didn't have a schoolbag for school.
"Now I have one less worry in my heart. Thank you to The Fellowship for helping our family."