Hanukkah Cut-Out Cookies
---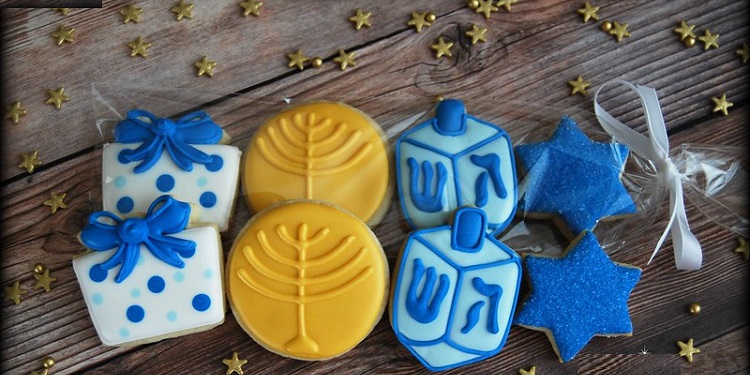 Everyone loves cookies! Hanukkah cookies are traditional this time of year. For this recipe, you can be creative and use your favorite sugar, gingerbread, or shortbread cookie dough. Not to mention, add your own decorating tips. You can create any kind of shape to celebrate the holiday whether it's a dreidel, menorah, Star of David, or a gold coin.
Hanukkah Cookies Ingredients
1 Cup sugar
½ Cup shortening
2 Large eggs
3 Cups flour
2 Teaspons baking powder
½ Teaspoon salt
1 Tablespoon orange juice
1 Teaspoon pure vanilla extract
Additional flour for rolling dough
1 Large egg yolk, lightly beaten (For cookie glaze)
¼ Teaspoon water (For cookie glaze)
Assorted food colors (For cookie glaze)
Directions
Preheat oven to 375° F. Cover 2 baking sheets with parchment paper or a silicone baking mat. Set aside. In a medium bowl, combine the flour, baking powder, and salt. Set aside. In a large mixing bowl with a paddle attachment, cream the sugar and the shortening. Add eggs one at a time, then add the orange juice and vanilla and mix until completely blended. Add the dry ingredients and mix until thoroughly combined and the dough is formed. Divide into dough in half, and wrap each half in plastic wrap. Refrigerate for 30 minutes until dough is chilled and easier to handle. Roll out dough with floured rolling pin on floured board. Use your favorite cookie cutters to cut out shapes. Transfer cookies to prepared baking sheets. Decorate with colored sugar or paint with Cookie Glaze. Bake 8-10 minutes on prepared cookie sheets For Cookie Glaze Mix yolk, water and food coloring together in a small bowl. Paint the cookies with clean paint brushes.
Looking for more recipes?
Check out our Learn Center for more authentic Jewish recipes for any time of year. Another great recipe for the Hanukkah season is our delicious Golden Potato Latkes.