The Bonds of Love and Peace
Yael Eckstein | May 23, 2022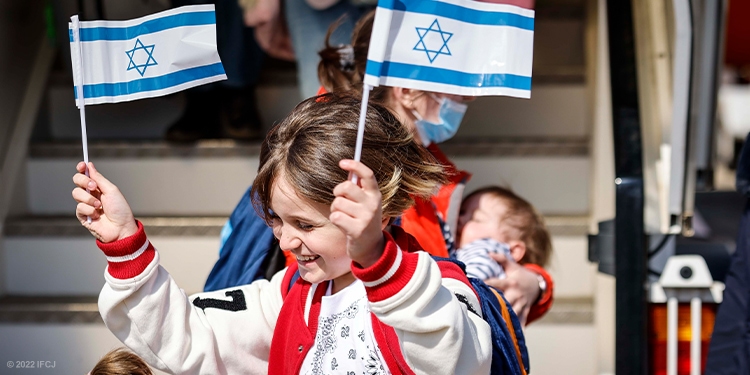 Your threshing will continue until grape harvest and the grape harvest will continue until planting, and you will eat all the food you want and live in safety in your land. I will grant peace in the land… — Leviticus 26:5-6
Each week in synagogue, Jews read through the Torah from Genesis to Deuteronomy. The Torah portion for this week is Bechukotai, which means "My decrees," from Leviticus 26:3–27:34.
I want to share with you one of the more interesting aspects of life in Israel. The miraculous ingathering of the Jewish people from literally everywhere on earth means that Jews from many different cultures are living here together, sharing neighborhoods, schools, and places of work. This means that Jews from Eastern Europe, Ethiopia, India, the United States, South America, and everywhere else you can think of are thrown together to build a society.
Of course, we are all united by the bonds of family and shared destiny that go along with being a part of the Jewish people. But that doesn't mean that it's always easy for a population from such diverse backgrounds to build a society together.
Most of you probably know, for example, that Israel has elections a lot more often than most countries do. We had four in two years because no one party had a clear consensus. There are so many political parties because there are so many different types of Jews! Because of this complex reality, one important goal of The Fellowship's work is to spread a message of unity and love to the entire nation of Israel.
The Bonds of Love and Peace
In this week's Torah portion, we read the list of God's promised blessings for Israel. At one point in this list, there seems to be a needless repetition. God tells His people, "you will eat all the food you want and live in safety in your land. I will grant peace in the land."
After telling us that we will live in safety and security in the land, why does the Bible need to say that we will have "peace in the land?" Doesn't living with safety and security mean that we have peace in the land? Isn't this the same blessing?
The great 12th-century Rabbi Abraham Ibn Ezra explained that the first blessing — that we will "live in safety in your land" — refers to security from enemy nations. The second blessing, "I will grant peace in the land," refers to peace among the people themselves.
There is no doubt that through our sacred work, The Fellowship has not only helped provide safety and security to those living in Israel, but we have also promoted the bonds of love and peace between all Jews, and with our Christian friends around the world.
As my father, Fellowship Founder Rabbi Yechiel Eckstein, of blessed memory, often quoted from the psalmist, "How good and pleasant it is when God's people live together in unity!" (Psalm 133:1). Amen!
Your Turn:
Please pray for the peace and well-being of Israel, both inside and out.