Choose Faith over Facts
The Fellowship | April 9, 2019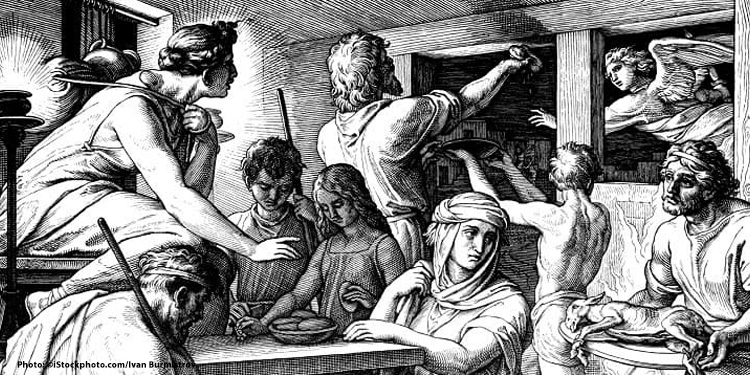 This month marks one of the most ancient and holiest of Jewish celebrations, Pesach, or Passover. It is a celebration of faith over facts, God's redemption of His people, Israel, from bondage, and freedom is a theme underlying the celebration. Please enjoy this collection of timeless devotions from my father, Rabbi Yechiel Eckstein, on this sacred observance. – Yael Eckstein, President and CEO
"Take care of them until the fourteenth day of the month, when all the members of the community of Israel must slaughter them at twilight. Then they are to take some of the blood and put it on the sides and tops of the doorframes of the houses where they eat the lambs." — Exodus 12:6–7
For more insights on Passover, please download our complimentary Bible study.
The story of the Exodus comes down to one action. According to Jewish tradition, four-fifths of the Israelites did not leave Egypt. They weren't ready to step out in faith and follow God, through His servant Moses, into the desert and an unknown fate. But for those who did escape the brutal clutches of the Egyptians, it all came down to following this one command: ". . . all the members of the community of Israel must slaughter them at twilight. Then they are to take some of the blood and put it on the sides and tops of the doorframes of the houses where they eat the lambs."
Only those who slaughtered the lamb and put its blood on their doorposts were saved from the final plague that killed every firstborn throughout Egypt. And only those families were redeemed. What was so significant about this single act?
Consider the facts. This one act was tantamount to suicide. Sheep were considered gods in Egypt. Killing an Egyptian god would undoubtedly anger the Egyptians and very likely would lead them to every home displaying the blood of their "god" with pitchforks in their hands. In addition, the Israelites were greatly outnumbered by the Egyptians. And finally, although God had already afflicted the Egyptians with nine plagues and had repeatedly demonstrated His might and power, Pharaoh had not backed down. Why would he back down now?
Not only that, but Moses had only promised to take the Israelites out of Egypt and into the desert where they would worship God. He had not explained to them how they would live in the desert, how they would find water and food, or how they would survive the harsh elements or invading nations. The fact was that the children of Israel were slaves at that time. They were weak in body and spirit. How could they possibly survive such an ordeal?
However, on the night of the Exodus, the Israelites who did leave Egypt were the ones who chose faith over the facts. They chose to trust God's vision over what their own eyes could see. They chose to "Trust in the LORD with all your heart and lean not on your own understanding" (Proverbs 3:5).
Similarly, in our own lives, there are times when the facts say one thing, but faith whispers something else. While we must make an effort to deal with the facts, we also have to consciously choose faith over the facts. Our bottom line must come down to what God says over what anyone else says. In this way, we, too, will be redeemed.
For more insights on Passover, please download our complimentary Bible study, The Passover Experience.