'We, the Soldiers Who Have Returned from Battle'
The Fellowship | October 26, 2018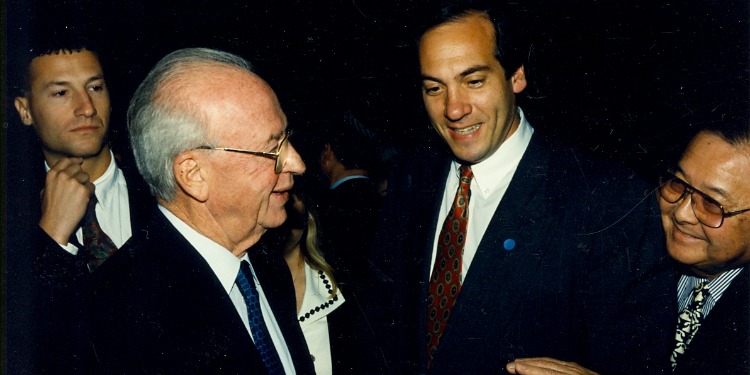 Yitzhak Rabin

Lived: March 1, 1922 – November 4, 1995
Why you should know him: Born in Jerusalem to parents who were involved in Jewish defense efforts, Rabin volunteered for the Palmach, the commando unit of the Jewish armed forces, shortly after completing his studies. His service in the Palmach and then the Israel Defense Forces (IDF) spanned 27 years.
After retiring from the IDF, with the rank of Chief of Staff, Rabin was appointed Israeli Ambassador to the U.S. in 1968. After serving in that post for five years, Rabin was elected to the Knesset (the Israeli parliament) in 1973, and was elected prime minister the following year.
As prime minister, Rabin worked to strengthen the IDF and improve the Israeli economy. He also brokered an agreement with Egypt, signed the first Memorandum of Understanding with the U.S., and ordered the Entebbe Operation in 1976. After his party lost the next election, he went back to the Knesset in foreign affairs and defense roles, and was again elected prime minister in 1992.
During Rabin's second term, he was instrumental in the signing of the Oslo Accords, a role that earned him the 1994 Nobel Peace Prize, together with Israeli Foreign Minister Shimon Peres and PLO Chairman Yasser Arafat (read Rabin's acceptance speech here), and oversaw the signing of the Israel-Jordan Treaty of Peace in 1994. Tragically, at a 1995 peace rally in Tel Aviv, Rabin was assassinated.
In his own words: "Of all hands in the world, it was not the hand that I wanted or dreamed of touching, … We, the soldiers who have returned from battle stained with blood, we who have seen our relatives and friends killed before our eyes, we who have attended their funerals and cannot look into the eyes of their parents, we who have come from a land where parents bury their children, we who have fought against you, the Palestinians – we say to you today in a loud and clear voice: Enough of blood and tears. Enough. …The time for peace has come."